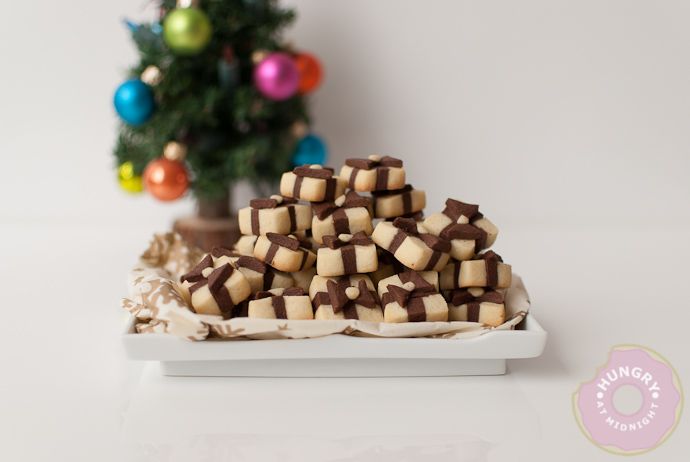 Christmas is coming soon, way sooner than I hoped as deadlines and exams are also way too soon now. At least this is my last week and I will have two weeks off to bake, create and eat a lot! I have made Christmas present box cookies for under the mini tree and my cookie box. I hope you try them out, I think they will be a crowd pleaser on Christmas!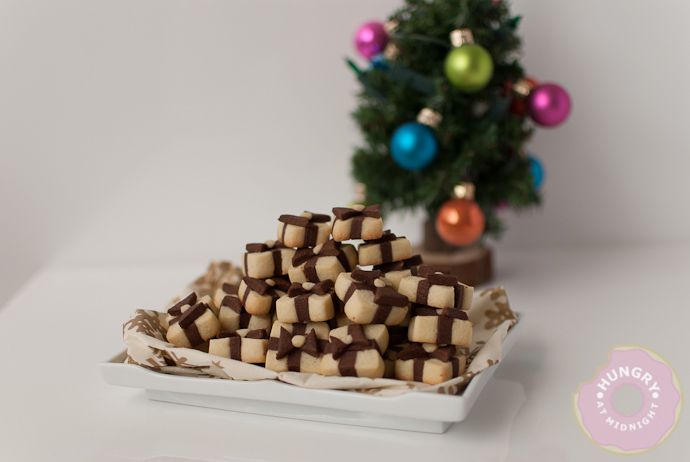 I made a very large pile of gifts hihihi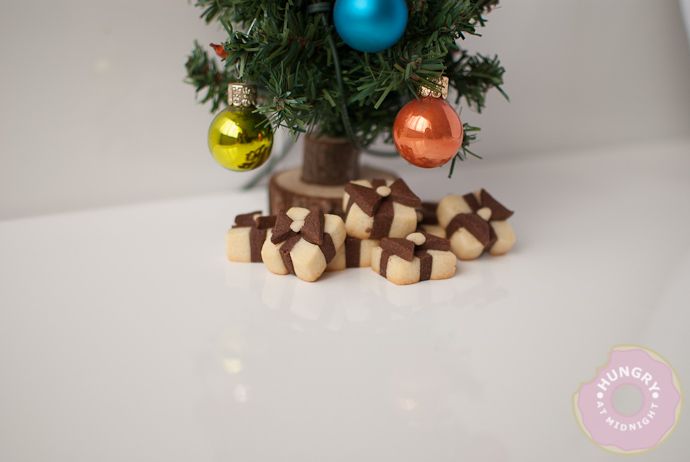 The gift boxes belong under the Christmas tree right?
If you liked my panda cookies I think you will like these also. These are definitely a lot easier than the panda cookies, so worth a try I'd say!
Here I show you the progress of making these gift box cookies. The way to make the cookies with the bow around it, is to make logs with a cross as it's cross-section. Roll out both doughs, stack the brown dough in between two strips of white.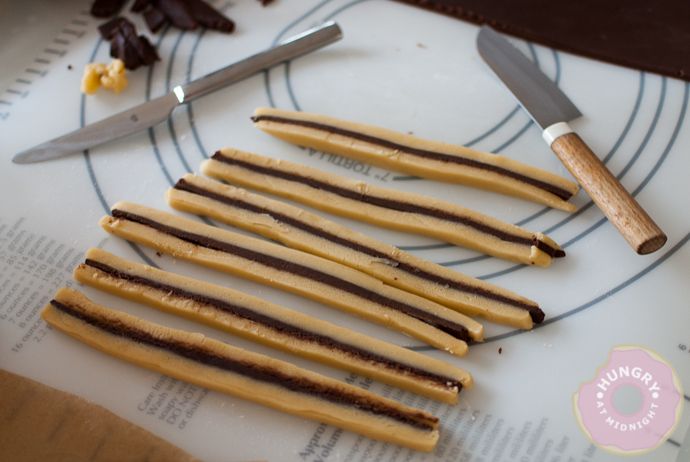 Cut the log in tree strips again and stack a brown strip in between the striped strips.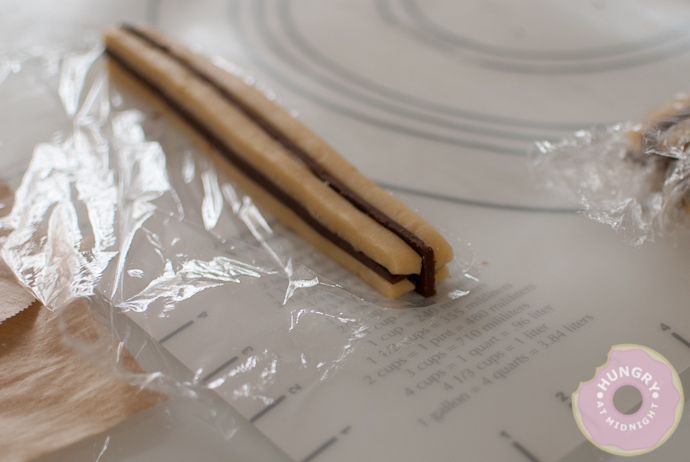 This is what you should end up with. Refrigerate for a while, then cut the logs and make bows for the boxes.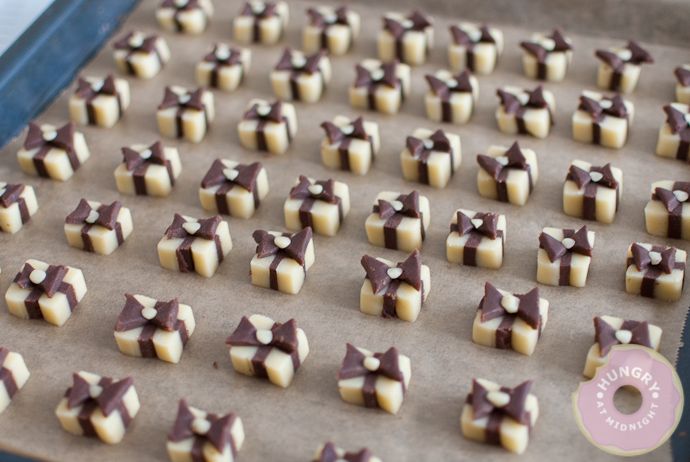 Place on a baking tray and bake!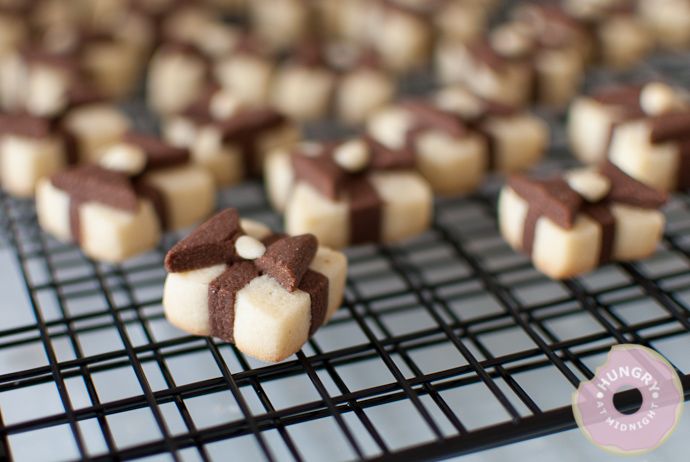 The result.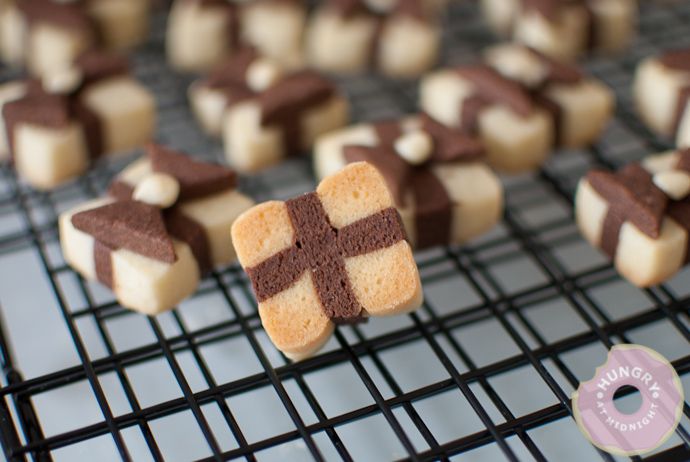 The bottom is golden brown, I baked the cookies not too long as I wanted high contrast between the bow and box itself.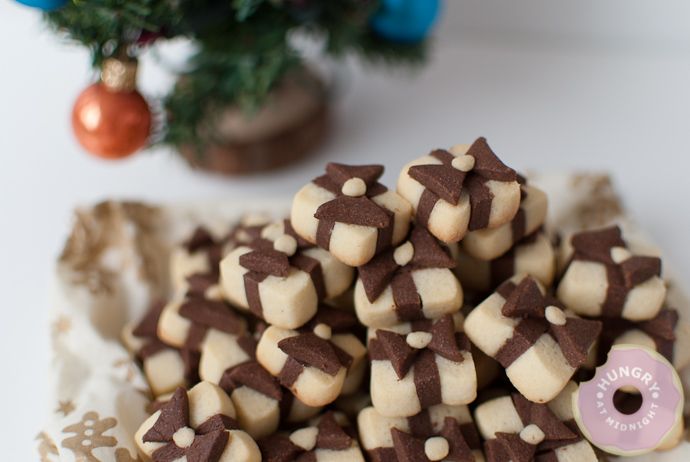 Close up of the pile.
I hope you like them, try them and share them with your friends and families! Happy Holidays 🙂

Gift box cookies
Ingredients
100g butter
100g sugar
1 egg
130g all purpose flour
115g all purpose flour + 15g cocoa
Instructions
Mix the butter and sugar until soft and creamy.
Add the egg and mix until incorporated.
Divide the mixture in two and set one part aside in a bowl.
Add 130g flour and mix until a dough ball forms. Wrap the dough in plastic.
Now to the other half of the butter/sugar/egg mixture add the flour and cocoa and mix until a dough forms. Wrap the dough in plastic.
Refrigerate for at least one hour.
Roll both doughs with a rolling pin. Set aside some cocoa dough for the bows to make later. Roll the white dough 6mm thick and the cocoa dough 4mm thick. Cut the white dough lengthwise in four strips. Cut two strips of cocoa dough with equal width as the white ones and place in between two white strips. Cut the two logs in three, ending up with six striped strips. Cut the remaining cocoa dough in 3 strips with equal width as the striped ones. Place cocoa dough in between two striped strips. Wrap the three logs in plastic and refrigerate for at least half an hour.
Preheat your oven to 175ºC / 350ºF.
Cut the logs in 1 cm thick pieces and place on baking tray with baking paper. Make a bow of the left-over dough by cutting small squares diagonal in triangles.
Bake 15 min on 175ºC / 350ºF.
29