Hey guys, happy new year! Sorry for sort of neglecting Hungry at Midnight for the past two weeks. I did bake quite a bit, but didn't make any posts.. I don't do new years resolutions, but this year I will keep baking new yummy things. I baked macarons three times in December so it's definitely worth a post.
This year NYE was celebrated with my family at my parents house. The food theme was Surinamese (my family is from Surinam), so everyone brought a Surinamese dish. As baking is my department, I had to bake  at least something Surinamese apart from the mini chocolate tartelettes and macarons I decided to make for NYE.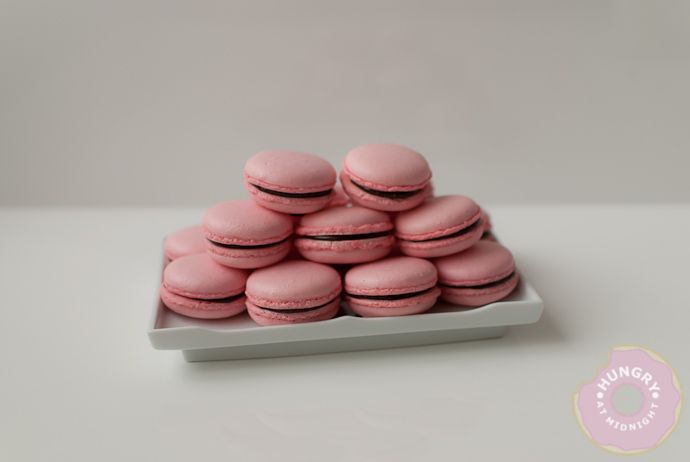 I bought Adriano Zumbo's book Zumbo, the book is full of macarons and other intricate sweets. Macarons are one of those hard things to make. I have made macarons for the first time over 2 years ago and then stopped making them. Now was the first time again and this time with italian merengue. It went great! I wanted to make red macarons, but my food coloring wasn't as pigmented so they became pink. Ah well, the macarons themselves didn't fail!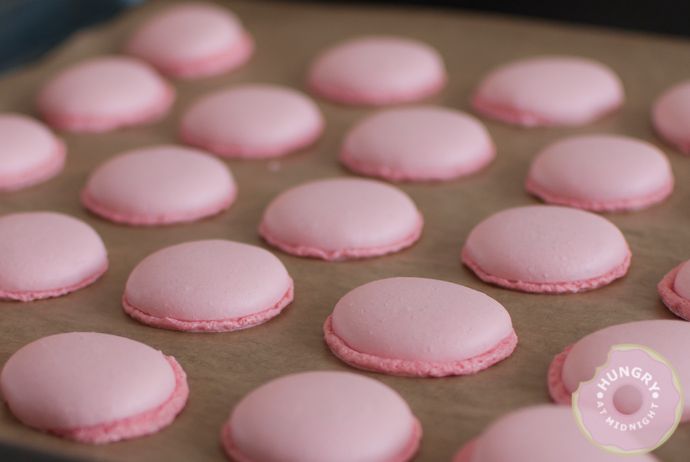 Some just looked funny and were lopsided. I think it had something to do with the heat distribution in my oven. Only the ones around the edge of my tray were like that.
A week or so later I wanted to make orange macarons. But when I wanted to make half a batch, they came out different! They were sort of hollow, they looked good but were easy to crack. You can find a photo of them on my instagram @hungryatmidnight. You'll see the pied is a lot bigger.
The next day I made another half batch but they totally failed! The book states that the recipes are as small as they can be for stable results so, they weren't kidding. But I think the problem was that I have whipped the merengue too much as they cracked, so too much air. I will give the half batch another shot some time to check if that was the case.
Recipe for Zumbo macarons: here
IMPORTANT NOTE: There is an error in the ingredients list!!! 110 grams of egg whites is missing! The recipe description is correct though.
I filled my macarons with a basic dark chocolate ganache. Of course you  can fill it with something fancier if you like.

Chocolate ganache
Ingredients
200g dark chocolate
175g whipping cream
60g room temperature butter
Instructions
Chop the dark chocolate in to fine pieces and place in a bowl.
In a pan, bring whipping cream to boil.
Pour the cream over the chocolate en let sit for 2 minutes.
Stir until smooth.
Dice the butter in to small chunks and add to the chocolate, stir until butter has mixed in.
4