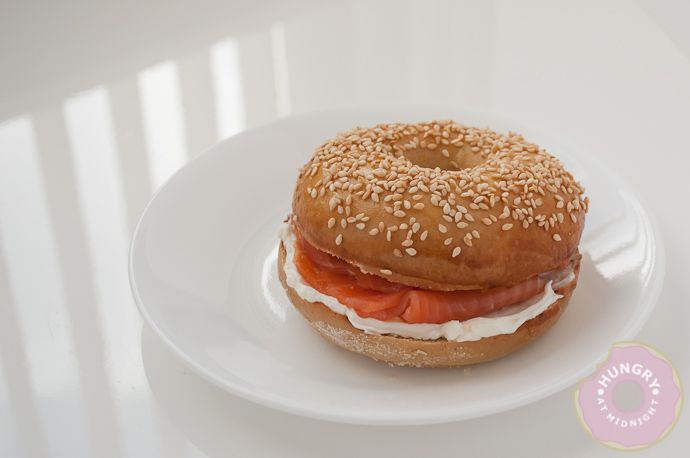 I love bagels, but I don't didn't eat them often (until now, as this recipe is so simple). The last time I ate a real, fresh baked bagel must be over 5 years ago in Canada. I probably ate some from the the American/Canadian supermarkets after that really good one, but they were obviously not as nice as the fresh baked one. Here in The Netherlands there is one chain who is "specialized" in bagels, but I'm a student and I'm not willing to pay €7 ($10) for a similar bagel as shown above. I can buy all the ingredients I need with €7 and make a lot of bagels with cream cheese and smoked salmon. So I did. We also hit the third recession so I advise you to make some bagels yourself too.
Bagels are very easy to make. I found this recipe here. They do not need the sit on the counter twice, but only once! In total they relax only  for 40 minutes. I brushed the bagels with egg but I think it is unnecessary as the bagels are damp so the sesame will stick to it.

This recipe makes four bagels. I sliced my bagel, grilled both sides and ate it with cream cheese and smoked salmon. This bagel was just as good or better than the one I had a long time ago. I will for sure make these more often for lunch in the weekends. I hope you try them and if you do, please share them with me online on Facebook or Instagram (@hungryatmidnight).

Bagel
Ingredients
10g sugar
2g yeast
140g/ml lukewarm water
250g bread flour
5g salt
2 liter hot water for boiling
1 tablespoon molasses (or honey)
Cornmeal to prevent sticking on the tray
Sesame seeds / other topping
Instructions
Add the sugar, yeast and lukewarm water together in a cup and let it stand for a couple of minutes while you gather and measure the bread flour.
Put the bread flour and salt together in a bowl.
Add the yeast mixture and stir with a spatula until it comes together.
Transfer the dough to a worktop and knead with your hands for about 10 minutes. The dough should be smooth.
Divide the dough in four balls (each piece about 100g) and let rest under a damp cloth for 10 minutes.
Shape the pieces by making a hole in the middle, the hole should be one third of the total width of the bagel. Repeat for remaining pieces.
Leave the bagels under a damp cloth for 30 minutes.
Preheat oven to 190ºC/375ºF. Sprinkle some cornmeal on the baking tray.
Bring the water with the molasses in a shallow pan to a boil.
Boil the bagels on each side for 30-60 seconds and then place the bagels on the baking tray.
Top the bagels with sesame or other preferred topping. (or nothing)
Bake 8-10 minutes. Transfer to cooling rack.
Notes
I knead this dough by hand as it's not a big batch.
3